Garage Door Spring Repair Moraga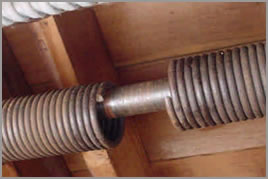 Is your garage door malfunctioning? It could very likely be that you need garage door spring repair. Moraga Safe Garage Door will quickly assess what the problem is, and we'll get your garage door repaired in a jiffy.
GIVE US A CALL NOW! (925) 301-4187 ~ a mobile technician will be there shortly to assist you.
Whatever your garage door problem is, our experienced professional technicians on staff will know whether to repair or replace your garage door spring.

PLEASE, NEVER TRY to fix the garage door spring! A garage door spring can go straight through a wall! Correct repair of a garage door spring is a dangerous job, calling for specialized talents and equipment.

Leave it to the Moraga Safe Garage Door experts! We use advanced technology and skill to safely perform the work.

We are at the cutting edge of garage door technologies. We carry the biggest selection of trustworthy product names in Moraga, California.
Our garage door springs are coated with a clean, black protective finish to prevent corrosion. Here's what we recommend:
torsion springs ~ Made with oil-tempered wire to further forestall any corrosion.
roll-up door springs ~ For roll-up garage doors, our roll-up spring is best for producing the least noise. Hard-drawn and oil-tempered for the longest life.
extension springs ~ Double-looped, open-looped, and with clipped ends. Oil-tempered for maximum strength.
We repair and install Moraga garage doors around the clock ~ 24 hours a day, 7 days a week!
CALL US ANYTIME (925) 301-4187
You can count on our superior service. Before beginning any work, we provide a written quote with the total cost. All Moraga Safe Garage Door garage door spring installations come with our best warranty. When we're finished with the job, we'll make sure you're fully satisfied.

Remember, we offer 24-hour call-back, so you can ask us to return if there's anything else requiring attention.
CALL ANYTIME (925) 301-4187